Jimmy Ogle, the mind behind the upcoming plaque unveiling at the former site of Libertyland has generously sent us photos of the double-sided marker.
He explained more details about the marker: "With the advent of Tiger Lane, we decided to locate the historic marker at the new (limited access) entry into the property on the east side of East Parkway and Young Avenue (northeast corner).  At this location, the marker will be "distanced" from the Tiger Lane activities and have a stand alone presence right at the traffic light, bus stop  and new entry.   It will be due west of the actual location of the Zippin Pippin and right at the old Fairgrounds Amusement Park entrance."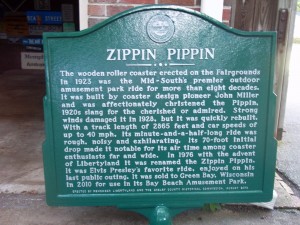 One side will commemorate the Zippin Pippin,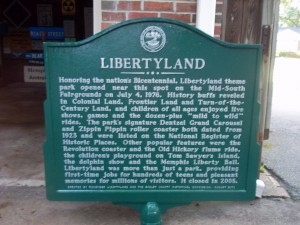 while the other side will honor Libertyland.
This will be a great reminder to all who visit the fairgrounds of the pieces of history which used to stand there.
The official unveiling will take place on Monday, November 1st, 2010, at 12:00 p.m.