I recently came across this interesting photo from a Memphis Flyer article. It seems that some materials from Libertyland were reused to create wooden conversation bubbles in one of the waiting rooms at the new LeBonheur hospital.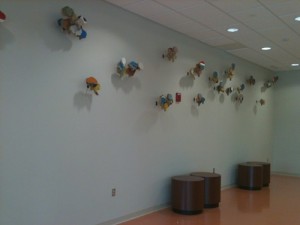 "This is right outside that playroom, in the waiting room itself … I love these wooden conversation bubbles. What's even better, they were constructed from recycled Libertyland material."
There's no telling where exactly within the park these materials came from. Perhaps the Zippin Pippin?